Read all the important information regarding Jewish museum in Prague: what are the tickets to Jewish museum, how much does a ticket cost, what sites to visit in the Jewish museum, where to buy tickets to Jewish museum.
Sites of the Jewish town
There are several buildings what you can visit with the ticket to Jewish town:
Maisel synagogue
Spanish synagogue (closed due to reconstruction till 2021)
Klausen synagogue
Pinkas synagogue
Ceremonial hall
Cemetery
Old-New synagogue
Old-New synagogue is still an active museum, there is no exhibition inside. However, you can buy a ticket (separately or combined with the other sites) and visit the interior. This synagogue is run by the Jewish community in Prague – therefore, it is not considered a site of the Jewish museum.
So, if you ask in the Jewish area where is the Jewish museum – this is a wrong question. Jewish museum in Prague runs the different synagogues. Therefore, you need to know which building you are looking for and then ask for directions. Most people want to visit the Pinkas synagogue, cemetery, and Spanish synagogue.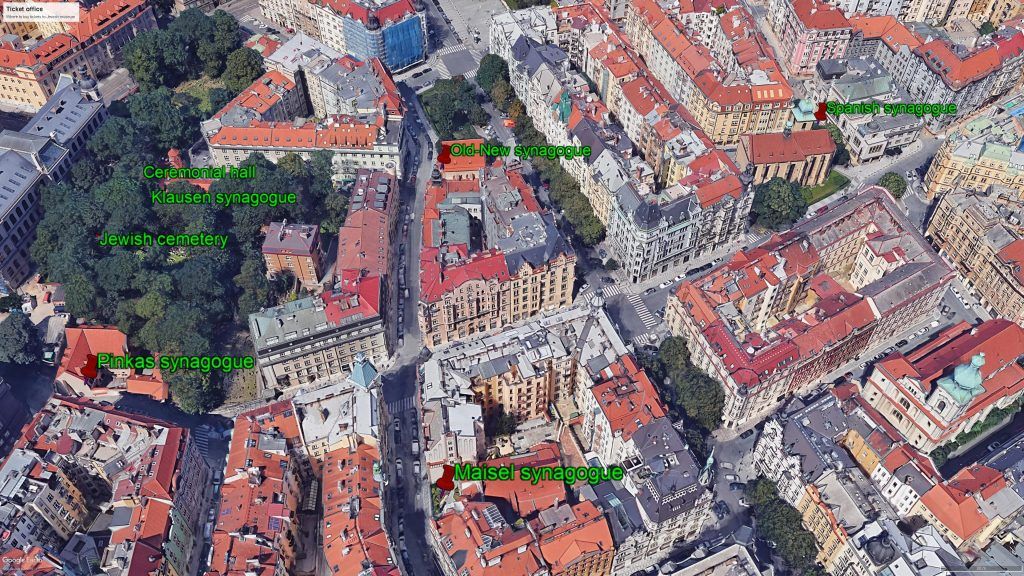 Jewish sites in Prague city center
Tickets to Jewish sites in Prague with prices
Jewish town: included all the sites mentioned above; price: 500 CZK (adult) / 350 CZK (student under 26 years old with ID)
Jewish museum: all the sites excluding Old-New synagogue; price: 350 CZK / 250 CZK
Only Old-New synagogue; price: 200 CZK / 140 CZK
All adults pay the full price, seniors have no discounts. You can purchase a family ticket also. All tickets are valid for 7 days, you can enter each sites only once (one entry ticket).
Find more information on the official site www.jewishmuseum.cz/en (also when are the sites closed due to Jewish holidays; sites are closed on Saturdays). On the website can purchase also ONLINE TICKETS. To buy a ticket online is actually the easiest and fastest way, you do not have to queue in any line at a sales desk. OR book a private guided tour and do not worry about your tickets. Your guide chooses the best option and sale point for you without queuing.
Where to buy tickets to Jewish museum
As mentioned above, the Jewish museum in Prague runs different exhibitions in different non-active synagogues. So you buy one ticket to the synagogues – there are several places where you can buy the tickets. The best is to buy tickets to Jewish museum at the Information and Reservation center on Maisel street. There you can pay in CZK, euro, or by card. Further you can buy tickets at:
Spanish synagogue
Pinkas synagogue
Maisel synagogue
Opposite of Old-New synagogue
SO: DO NOT QUEUE AT THE CEMETERY FOR PURCHASING TICKETS, BUY THE TICKET AT A DIFFERENT SALE POINT AND GO STRAIGHT INTO THE PINKAS SYNAGOGUE AND CEMETERY.