The best time to visit Prague? Spring or autumn! In autumn Prague you enjoy the emptier streets on week days yet still you get the warmth from slowly fading away sun rays.
The eternal question – when should I visit Prague? When is the best time to visit Prague? Is it too cold in the winter, too hot in the summer? Simple answer: visit Prague in spring or in autumn. Both times are great, during both times you benefit from certain aspects of pre or post tourist season.
Autumn Prague: Temperature
Autumn offers warm sunny days with temperature up to 15 degrees Celsius. That is a comfortable temperature to walk around in a T-shirt. This high temperature lasts till about second half of October. Then it gets cold, rainy, occassionally snowy in the mountains. With November it gets too cold with freezing mornings and cold nights. Don´t forget to bring warm shoes, hats, scarves, even gloves.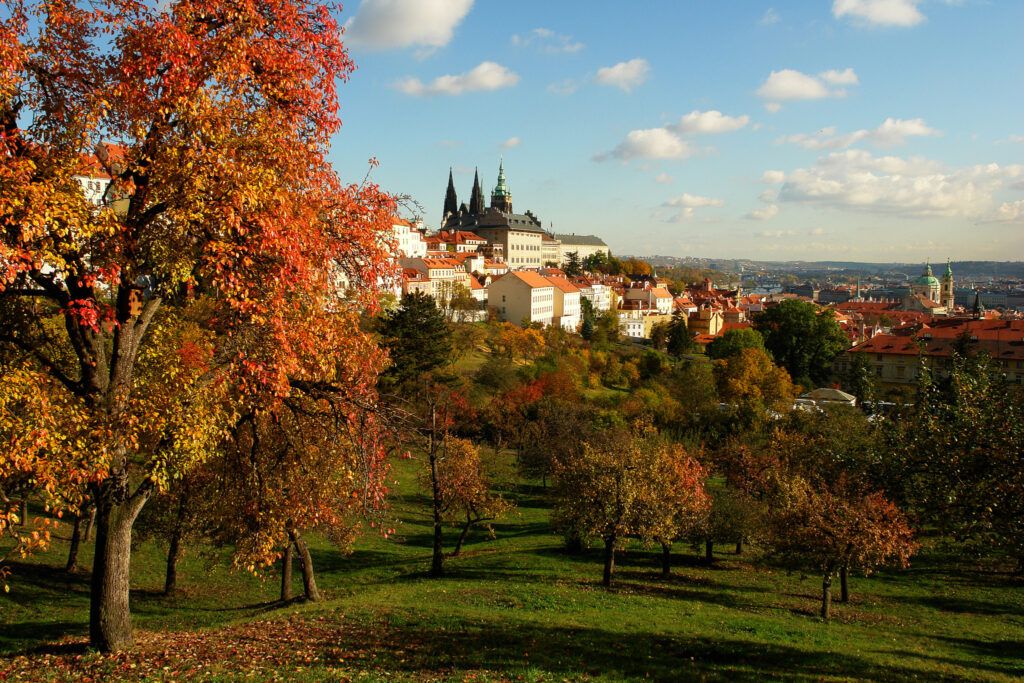 Crowds
A great advantage of autumn Prague are emptier streets. The school, university, and full work days have begun – there are much less tourists walking around. Nevertheless, as the weather is still nice, Prague gets crowded over weekends. So the best time to come to Prague in autumn is during the week in September or October.
Price
Accomodation prices have dropped. The high season of tourism in Prague ends with August and picks up again in December. So enjoy lower prices for your hotel room.
Tours
Supreme Prague offers private guided tours all year round. The best tours you can book in autumn:
Tour by minivan = Grand city tour – Discover Prague in three hours. After your hotel pick up you always are driven to a site where you get off, take pictures, and learn about the place.
Vintage car tour – The best tour on a sunny day – drive around in an old convertible for one hour and then walk from the Prague castle to the city center
Kutná Hora private trip – Enjoy a half-day trip out of Prague to a beautiful town with a medieval heart. See the coming autumn in the changing countryside. Get to know about the source of wealht of Kutna Hora in 14th century.