Family day: make glass jewelry and visit the famous Karlstejn castle
Supreme Prague often receives the inquiry: we would like to have a family day in Prague with some fun activities for kids. Our answer is very simple: spend a family day on a trip out of Prague to make glass jewelry and on the way visit the medieval Karlstejn castle. Don´t buy ordinary souvenirs, make glass jewelry on your own to bring it home as a valuable memory to a wonderful family day spent on vacations in Czech Republic.
Your family day begins in Prague in the morning when your guide and driver pick you at your hotel. Together you drive for about an hour to an atelier located in a village in Central Bohemia. The atelier WAGA was founded by a very nice couple, Robert and Martina Kaufmann in 2000. They concentrate on making jewelry, designed home accessories, and glass crosses. Not only that you can make glass jewelry for yourself, you can also buy some products as gifts for much more reasonable price than in Prague city center.
The production is very easy and fun. You will have Martina showing you and explaining you everything. Firstly, you need to choose what kind of product you want: earrings with necklace or maybe a piece for home (bowl, for ex.). Then it comes to making, designing, and coloring. While concentrating on your work, you get a drink and small snack.
After about an hour when you are done, you cannot take your product with you. It needs to be burnt in the oven for some time. Supreme Prague will deliver your jewelry to your hotel the next day (so do not plan this trip on your last day before leaving Europe).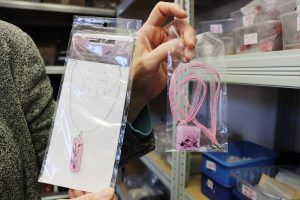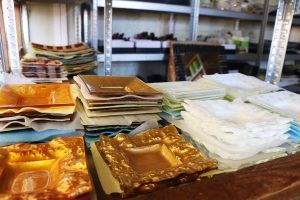 As a second part of your family day you drive to the popular Karlstejn castle near Prague. It is the "national castle that every Czech person has to visit at least once in a lifetime ". The castle is located upon a hill above a small village in the woods. However, no cars are allowed get you to the top. Either you walk 1,5 km uphill (1600 yards, about 30 mins) or you take a horse carriage. The latter option is much more fun. You can have lunch before or after the castle visit, there is plenty of restaurants on the way.

After the visit of the Karlstejn castle you return to the parking lot by the river. You drive back to your hotel in Prague which you should reach by late afternoon. If you are not interested in the jewelry making or visiting the castle, we modify the trip to your wishes. Just contact us and write us your ideas about your perfect family day in Prague or choose from our trips.